Home
Catering Menus
Catering
Theme Catering
Special Events
Fundraising
Cooking Classes
Testimonials
About Us
Contact Us
Soup, Salad & Sandwich Menu Selections
Special requests available. Have a soup, salad, and sandwich party. These choices are great for fun get togethers!
Soups
Cream of Mushroom Soup
Mushrooms are sauteed with butter, garlic and thyme. Then the magic happens with the addition of white wine, chicken stock and cream.
Meatball Soup
Based on a cross between Albondagas Soup and Italian Wedding Soup, tender meatballs are simmered in a light broth with Kale, Carrots and other Aromatics.
Minestrone Soup
Carrots, celery, onions, zucchini, potatoes, cannellini beans and pasta almost make this soup a meal.
Corn Chowder
Fresh corn simmered to a rich perfection.
Cheddar Corn Chowder
Fresh corn with sharp white cheddar cheese. Served with a garnish of bacon.
Roasted Tomato Soup
Roasted tomatoes make your taste buds yell with excitement. Served with bruschetta and basil.
Salads
Citrus Salad with Oranges and Almonds
Crisp iceburg lettuce is topped with mandarin oranges, red onion, avocado and toasted almonds with a wonderful citrus vinaigrette.
Tropical Rice Salad
A refreshing cold rice salad with scallions and thyme.
Asian Chicken Salad
Light and refreshing with our own special salad dressing, this salad includes mandarin oranges, almonds, rice noodles and fried wontons.
Spring Mix Salad with Dried Cranberries, Candied Pecans and Blue Cheese Crumbles
Tender young greens gently tossed with our signature vanilla-fig and dijon balsamic dressing. It pairs perfectly with the candied pecan and blue cheese. Substitute the dried cranberries with fresh apple or pear instead.
Mediterranean Cucumber, Fennel & Tomato Salad with Oregano & Feta Cheese
Cucumbers, tomatoes with thinly sliced fennel or topped with fresh oregano, feta cheese and our special Mediterranean vinaigrette.
Spring Mix Mango Salad
Spring Mix salad greens with roasted almonds and mangos in a wonderful Mango Vinegarette.
Sandwiches
Santa Maria Style Tri-Tip Sandwich 1st Place Award Winner
Tri-Tip rubbed with our Santa Maria style rub and cooked to perfection. These sandwiches are made with our Roasted Garlic, Cream Cheese, Horseradish Spread and topped with Sauteed Mushrooms and Shallots.
Roast Beef Sandwich with Dill/Cream Cheese and Cucumber
Thinly sliced roast beef and cucumbers served on sourdough bread with our wonderful dill cream cheese spread and mayonaise.
Thanksgiving in a Sandwich
Thin sliced roasted turkey piled high and served on a whole grain organic bread. What makes this special is the sweet potato hummus, cranberry-shallot-thyme compote made with port, red wine, and orange juice, and our house coleslaw that tops off this creation.
California Cheese Steak Sandwich
Thinly sliced tri-tip placed on a roll with Nacho Cheese sauce, carmelized onions and jalpeno peppers (optional).
Instead of giving you cookie cutter menus, we like to work with you to develop menus that "cater to your needs". The menu choices are only "suggested" samples.
If you entered our site on this page, don't close the window. Instead use the links below.
Home • Catering • Theme Catering • Special Events • Cooking Classes • Catering Menus
Fundraising • Client Reviews • About Us • Contact Us • Policies

The Pit Stop BBQ, LLC
661.269.2866 • 818.775.0278
No part of this publication may be reproduced in any form or by any means, electronic, mechanical, photocopying, recording or otherwise, without the prior written permission of the publisher.
© 2005-2021 The Pit Stop BBQ, LLC. All Rights Reserved.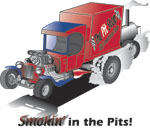 Award Winning Tri-Tip Sandwich!